Do you know how to install a car battery? Are you certain you know the correct car battery dimensions? A simple procedure in theory, installing the battery on your car takes some nuance to do so safely. You might find that as you open the hood, you're hit with several questions, from "What tools do I need?" to "What are the dimensions of my battery?" If you're interested in learning how to replace and safely dispose of your old car battery, the experts in the Service Center at Napleton's Countryside Mazda are here to help. 
When to Replace Your Car Battery
In general, you'll want to replace your Mazda vehicle battery every three years, assuming there are no other issues with your vehicle battery. As your Mazda battery grows older, it becomes more unreliable. There is no hard and fast rule to how long your battery will survive; however, many other factors, such as malfunctions, time, heat, and usage, affect battery performance. There are a few signs you'll want to look out for that can signal that it's time to replace your battery, such as:
Pungent smell
Misshapen or bloated battery case
Warning light on your dashboard
Slow engine crank
Dim headlights
Issues with electrical systems like windows, wipers, or power seats
Should you notice any of these signs on your Mazda vehicle, it could mean that your battery life is fading. You'll want to bring your Mazda into the Napleton's Countryside Mazda service center near Chicago to let our expert service technicians inspect and repair your Mazda battery. This will ensure that you remain safe on the roads as poor battery performance can easily leave you stranded! 
How to Remove Your Car Battery
Gather your tools: Wrenches, battery cleaning solution, a new battery, wire brush, pliers, and anti-corrosion spray. Below, you'll find the steps to removing the battery from your car.
Make sure the engine is off and engage the parking brake. After opening the hood and finding your battery, locate the two nuts connecting the battery to your vehicle. Using a wrench, loosen the nut connecting the black cable-this is the negative. You should be able to twist and pull the cable off. Do not use another tool, like a screwdriver to pry the cable loose, as you might damage the battery.
Next, remove the red battery cable from the positive terminal. 
Loosen, then remove the battery clamp, which holds down the battery so it doesn't move around.
The battery is heavy and its acid is dangerous, so remove it from your vehicle with care.
Using a battery cleaning product or baking soda, clean off any corrosion on the battery tray and hold-down clamp.
Use the same cleaning product and a wire brush to clean the cable connectors.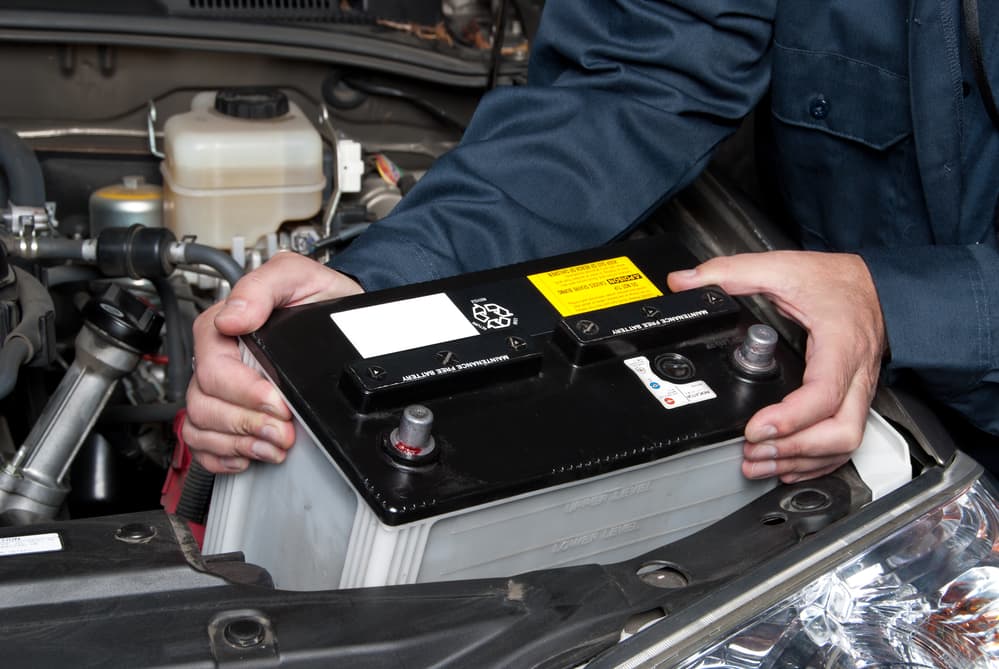 How to Find the Correct Battery for Your Car
Before you can install your battery, you should make sure you have the right car battery for the job. Always consult your owner's manual first, which will ensure you know the right car battery size to purchase. If the manual is missing, the old battery itself should list the type of battery needed, provided it's the original manufacturer battery and the info hasn't been worn away. Even if you're certain you have the right battery, it doesn't hurt to ensure the new battery is the same dimensions as the old battery before installing. Of course, if you are still unsure if you have the right battery or not, your best source for information will always be the Napleton's Countryside Mazda Service Department-drivers near Cicero are always welcome to schedule an appointment. You're also welcome to contact our Parts Department.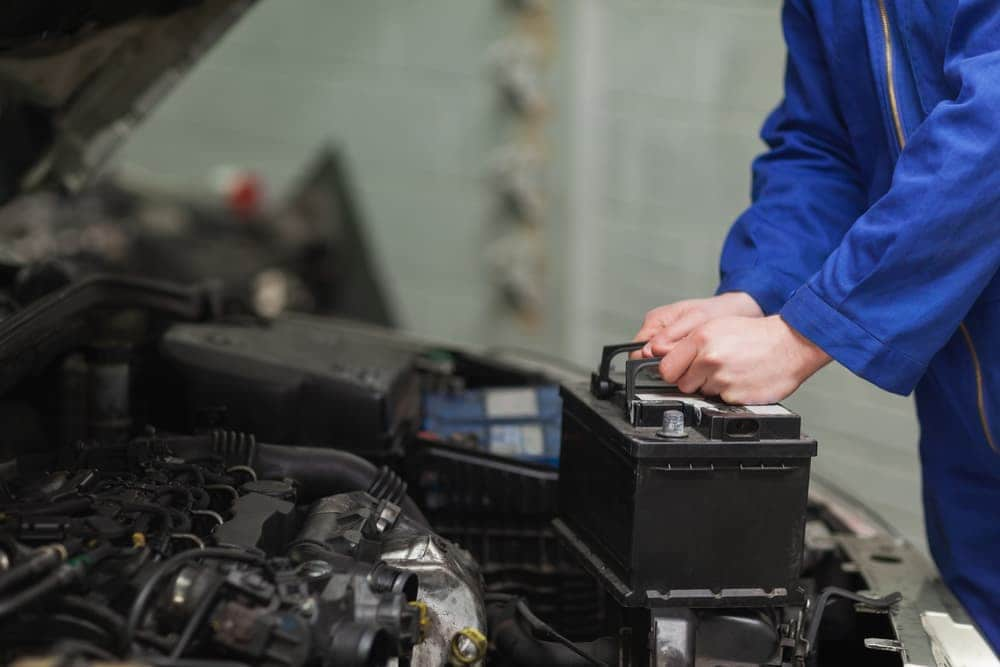 How Much is a Car Replacement Battery?
For the average Maza vehicle battery, replacement costs around Chicago can range from $45 to $250. Here at Napleton's Countryside Mazda, we offer a large selection of Mazda batteries. These top-notch batteries are designed specifically for your Mazda car, crossover, or SUV. Should you choose to do so at home on your own, read on to learn how to install your Mazda replacement battery. 
Instructions for Installing Your New Battery
If you have anti-corrosion solution, spray some on the positive and negative terminals of the new battery. Not only will this extend the battery's life, but it will also help ensure the battery starts your car efficiently during a cold Illinois winter.
Place the new battery in the battery train and secure it with the hold-down clamp.
When attaching the battery cables to the new battery's terminals, connect the red cable first, then the black.
Make sure the battery and the cables are secure.
Start the car! Theoretically, it should start without a problem. If your car doesn't start after installing a new battery, consult the Orland Park-area battery experts at Napleton's Countryside Mazda.
Why You Shouldn't Throw a Dead Car Battery in the Trash
Whether your dead batteries are regular household or lead-acid vehicle batteries, you should never throw them in the trash. Batteries, including your car batteries, are composed of dangerous chemicals, such as acid and lead, that are extremely toxic to wildlife and the environment. In 1985, the U.S. Environmental Protection Agency (EPA) declared lead-acid batteries toxic waste. This means that improper disposal of a car battery can lead to an expensive fine. 
Let Us Take Care of Your Battery Replacement Needs
Batteries eventually become old and wear out. But not to worry! Our expert service team at Napleton's Countryside Mazda is equipped with the team and OEM parts you know and trust. Our team of certified technicians will inspect your battery regularly and will replace batteries as needed, along with our full range of services available to you. 

Prefer to do it yourself? You can also order parts, including batteries, for all of those car maintenance needs you prefer to handle at home. Or, schedule service today to get back on the road with a fresh battery. Contact us to find out more ways that we can maintain your vehicle!
Schedule Service
* Indicates a required field